Maguro Sushi offers daily tasting menus based on traditional Japanese flavors and techniques from the kitchen and sushi bar.
Maguro Sushi offers the highest standard Japanese cuisine that sushi lovers have come to expect.
Prices for party platters vary depending on party size

Roll Combination
Sushi & Roll
Sushi & Sashimi Combination

Please Inquire About Our Party Menu Available Upon Request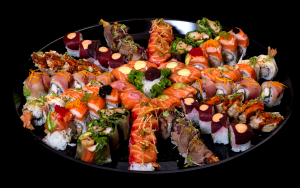 Reserve a table with us today! Sushi like no other.
Mon-Sat
Lunch 11:00AM-3:00pm
Dinner 4:30 pM-10pm
Sun: Closed
Mon-Thu: 4:30pm - 10pm
Fri-Sat: 4:30pm - 10pm
Sun: Closed

92 East Main St.
Ramsey, NJ 07446